Collections
Shop for artwork based on themed collections. Each image may be purchased as a canvas print, framed print, metal print, and more! Every purchase comes with a 30-day money-back guarantee.
About Kym Backland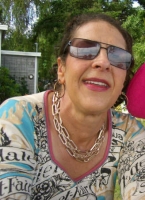 Capturing a moment in time, is one of the best emotions. I love seeing something thru the lens and holding it near you as long as you can. I like for that image to be caught by surprise. A pure emotion. That to me is usually the most interesting. Anyways.... Photography is my medium. I do enjoy photographing those "Funny Animals" I see along the way........Laughter gets you thru a lot of hard times...I appreciate you taking the time to see what I see.....

As you might have noticed I have never written a biography about myself for over 2 years. I figured I had better write one now. I'm definitely not going to write my "BIO" in the third person, so that I sound more important than I really am. Should I warn you that I have "run on" sentences for days? I've often thought about just leaving that "COMING SOON" line under my picture, and calling it a day. I could list all my experiences, what kind of camera I "have", which ones I "use" to have, the cameras I have that are broken, the ones I have fixed, and blah, blah, blah. Does anyone care that at one time I took some awful pictures on that C11O camera, and got "silk screen" finishes on my double set of "old school" 3x5 prints? Do you care that I loved "Fuji Film" back in the day? Do you really need to know that at the ripe age of 12.... I saved and bought myself a Hasselblad camera? Or that I love Leica cameras, (and don't own one anymore?)

All that being said, obviously I love NATURE. I love birds, I ended up learning to love these "COONIES" and it was not by choice.. IT's LOCATION, LOCATION, LOCATION! You photograph what you see, not always what you love.
I appreciate you coming by and voting, and liking, and clicking all those buttons for me. I like trying to comment on YOUR images, but my hands can't take typing for hours on end. I love to vote in all the contests, and clicking as many buttons as I can on your images, and favoring them too.
I always think about putting a new portrait under my name. But, I notice when other's change their pictures, I never know if it is the same person. I realize I get used to seeing a face, and when it is changed, well let's just say, I'm never sure if it is the same person.
Ok, that's it "thee" short story, or biography of my life for FAA.
Thanks for stopping by my gallery, and I hope to get to yours soon...
Keeping on CLICKING.....